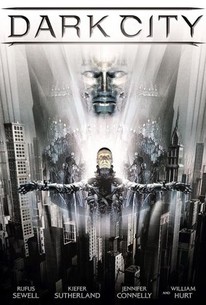 Released in 1998 this gem was overshadowed by The Matrix (released the next year) but is in its own way a fine example of the genre. Cast includes Kiefer Sutherland, William Hurt, Rufus Sewell, and a pre-anorexia Jennifer Connelly.
Okay I don't know for sure that Connelly has anorexia but she did shed a bunch of weight even though she was already hot so...
Anyway.
Where Matrix relied heavily on effects Dark City is more about the story, which unfolds much like the memory of the amnesia-stricken main character. That's not to say the effects aren't up to snuff... they are actually pretty damn good for the time (on par with Matrix itself).
The plot twists and reveals aren't terribly shocking or unexpected but neither are they hamfisted.
While it has some action sequences (the big battle in/over the city is a doozy) it's not an adrenaline-fueled slugfest.
The whole thing just... flows.
Well worth at least one viewing.